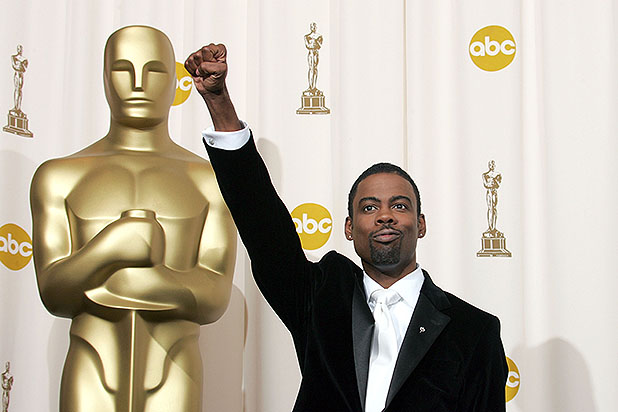 By Mandela Wells
@MwellsDJ
10/22/15
Yesterday the Academy of Motion Pictures Arts and Sciences made the announcement that Comedian Chris Rock will host the 88th Annual Academy Awards next year. This will be the 2nd time in his career he has hosted the ceremony as he previously hosted the 2005 ceremony. This has got to be the smartest choice for an Oscar host in years.
Chris Rock is truly the MVP of the entertainment industry," said Oscar producers David Hill and Reginald Hudlin. "Comedian, actor, writer, producer, director, documentarian, he's done it all.  He's going to be a phenomenal Oscar host!"
Chris may be best known as a stand-up comic, but we think of him as a creative innovator in many other ways. He is unafraid in his artistry," said Academy CEO Dawn Hudson
"I'm so glad to be hosting the Oscars," said Rock. "It's great to be back."
Rock is one of the most hilarious and well respected Comedians alive today. He has influenced many comedians and has had a pretty successful movie career including his best film of his career Top Five last year. The oscars at this point need a comedian as balsy and as funny as Rock.
Ratings and popularity for Oscars haven't been to great. Despite it being a showed that celebrates the art and passion of cinema and is a show i still look forward to each year. Yet it cannot be ignored that for an award show it could a hell of a lot better in terms of keeping us entertained and keeping the at home audience fixated on the tube for the 3 or 4 hours the show is on for. The long time of the show has been one reason that critics have cited in why ratings and popularity of the show have gone down over the years but in my opinion (and most will agree with me on this) the choices of hosts is the bigger problem.
Although Ellen DeGeneres did a great job hosting last year in 2014 we have gone a long period of time without a really great host for the show. Neil Patrick Harris couldn't measure up to Ellen this year and wasn't as funny as i was hoping for. James Franco and Anne Hathaway were complete Garbage at the 2011 ceremony. Seth McFarlane was lackluster in 2013. Hugh Jackman in 2009 started out on fire but got cold (so to speak) near the end. Jon Stewart was the last host to really keep the crowd entertained and brought a fantastic array of humor and jokes. it is surprising to me that show was less watched than the 2010 show which garnered the last really impressive ratings for the Oscars and it was hosted by Steve Martin and Alec Baldwin.
Despite some controversy with Rock's performance in 06 he still did a great job in my opinion. He is edgy no holds barred tells it like it is. Its something he has done his entire career with his Comedy style. The Academy's biggest night of the year needs a change in style, Skits and overall keeping  members of the film community in that theater entertained for 4 hours. They need a host that is unpredictable and will take humorous jabs at anyone and everyone and Rock is that guy. I am very much looking forward to hearing what he's got to say about Tom Hanks, Steven Spielberg, Jurassic World, Inside Out, Johnny Depp, Leonardo Dicaprio, Brooklyn, Spectre, Star Wars, Jennifer Lawrence and more elements that will make it to the show next year.