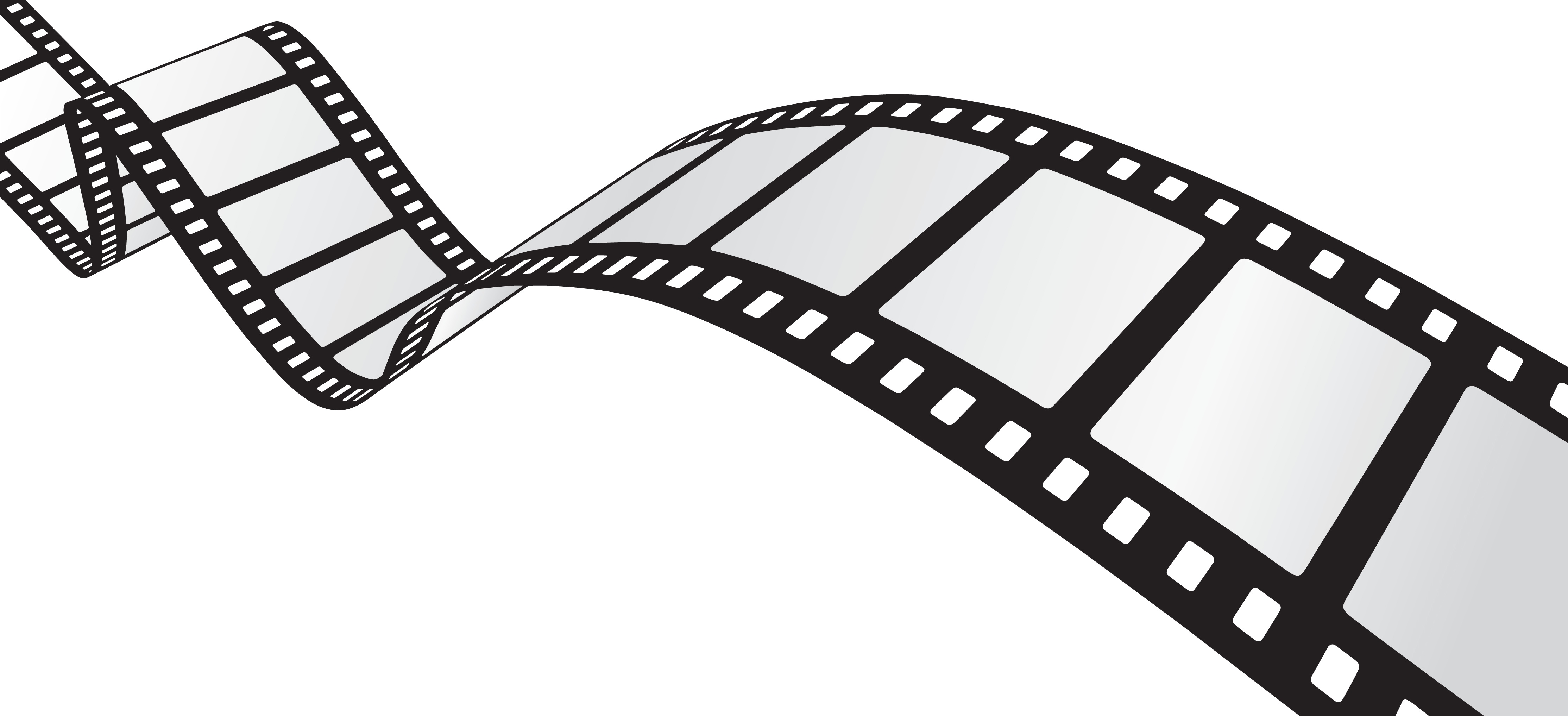 By Sam Bussell
@BussellSamuel
1/05/18
2017 is at its end and what a year it's been. While people reflect on the big events that happened this past year in both Entertainment and the World, it's also the perfect time for all movie lovers to give their top films of 2017 and after seeing over 60 films this year, I was able to crunch it down and give my top 10 for 2017 and while some might agree or might not this was a year that anyones top 10 could be completely different from everyone else's. So without further or do here is my top 10 of the year 2017:
10. Wonder Woman
Wonder Woman was the surprise superhero film of the year. After a failed year critically in 2016 with Batman v Superman: Dawn of Justice and Suicide Squad, all eyes were on the Amazonian to see how she would fare in her very first live action film and to say it was a smash hit would be an understatement. Led by the incredible direction of Patty Jenkins and the off the charts chemistry between breakout star Gal Gadot and Chris Pine this film is action-packed along with having a ton of heart and humor and heartbreak that will inspire youths that anyone can be a hero and it doesn't matter who you are.
9. Lady Bird
This is one film that I was pleasantly surprised about this year. Directed beautifully by Greta Gerwig who goes behind the camera for the first time instead of in front of one,  tells the age old story about how a young girl navigates her way through her adolescent years and tries to find herself in this world. While that may sound like The Breakfast Club or Sixteen Candles, this story has a bit of a twist on it ( and no it's not just that she goes to a catholic school) in which Gerwig explores this character that calls  herself Lady Bird is so quirky and odd that it's such a great dive into who this person is and how she lives her life. Saoirse Ronan is well on her way to nabbing a nomination at this years Academy Award as she hooks you into this film. If you want to see a coming of age film this is on to definitely check out.
8. The Disaster Artist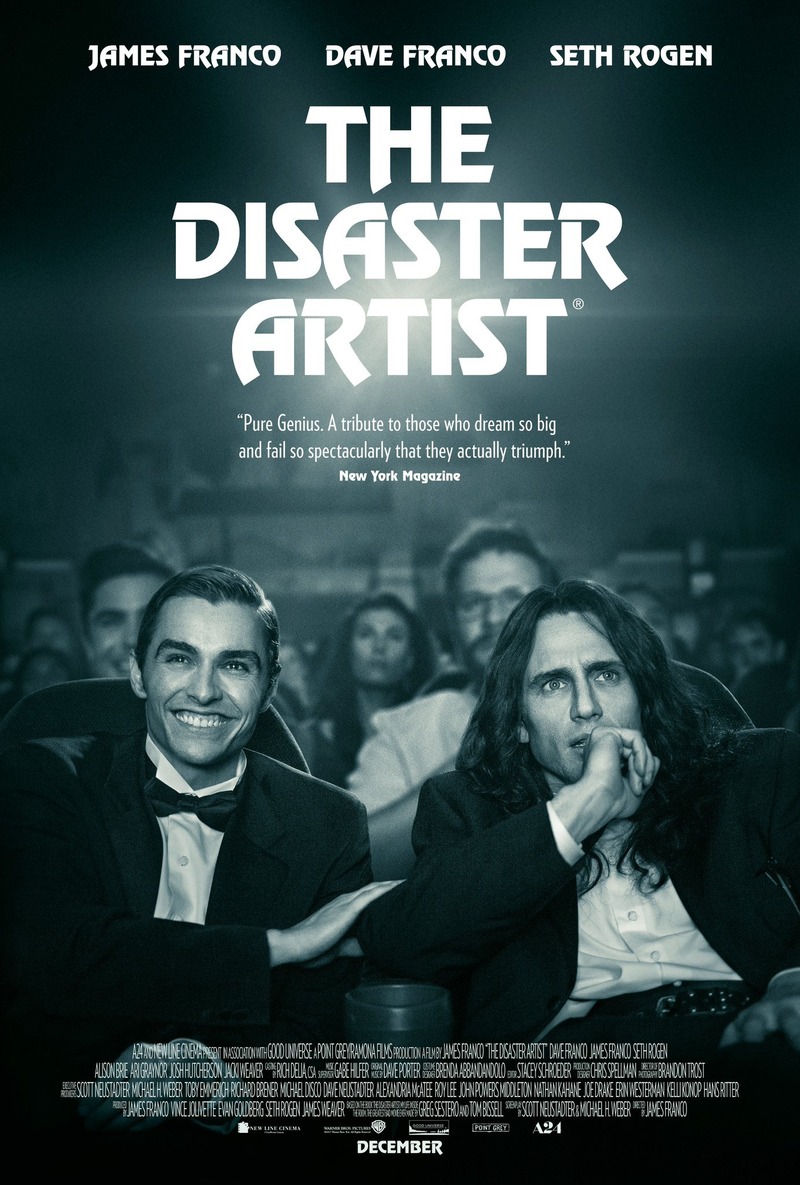 When this film was first announced with James Franco and his crew of Seth Rogan and his brother Dave Franco, I didn't know what to think about how this film would come out but I am happy by how wrong I was. Franco delivers such a spot on performance as the infamous Tommy Wiseau and deleivers a story that shows the crazy production process that every went through with, 'The Room' while also giving a story that has so much humor and heart that makes for a memorable time at the theater. You won't want to be throwing spoons at the screen by the times this films credits begin to roll.
7. Good Time
As a film buff this movie was a treat to watch at the end of the summer. Robert Pattinson gives the performance of his career as a criminal who is looking to get his brother out of jail after a failed robbery attempt. As the film went on I didn't even see Robert Pattinson, just the character of an everyday New Yorker. Also cinematography is outstanding in this film by going handheld (which normally doesn't work but for this film it does) and giving close ups of the characters to increase the intensity of the situation. This is a roller coster of a film from start to finish and was one of the most intense experiences I had at the theaters this year.
6. Dunkirk
Speaking of experiences, if there was one visually and technical film that I had to put in this top 10, it would be hands down Dunkirk. With this WWII film, Christopher Nolan delivers a cinematic experience unlike any other in the past few years. Nolan draws you into this film through the visuals and Hans Zimmer delivers an outstanding score that should nab him another Oscar. The characters aren't the people, its about the location and the event, and that would be Dunkirk.
5. War for the Planet of the Apes
The third entry in the rebooted Planet of the Apes franchise was one of my most anticipated of the year and it delivered on all cylinders. While it did have some action sprinkled in, it wasn't the war film everyone was anticipating it to be, it was more of a character piece about our apetastic hero Caesar and what it means to become a legend among his people. By the end of this film, if he isn't already an ape named Caesar should be one of your favorite heroes of this decade. Directed beautifully once again by Matt Reeves and played masterfully to perfection by Andy Serkis (who deserves Oscar buzz for his work on this role) you are once again rooting for the Motion Captured CGI apes that you sympathize with more so than the humans.
4. A Ghost Story 
A Ghost Story was the most surprising film I saw in all of 2017. When walking into this film I had no idea what to expect and in the first 15 minutes or so I was bored out of my mind, but once the Ghost comes into play and you go on this journey that deals with time and space it is a beautiful and engaging film. Directed by David Lowery and starring Casey Affleck as the Ghost and Rooney Mara as a wife who mourns for her husband this film also gives us wonderful cinematography(particularly one intense shot that is 9 minutes long!) and music that will have you humming by the time you finish the film. Overall this film is experimental at some parts but by the end is linear in its narrative as the film teaches us the age old story of time and love.
3. Star Wars: The Last Jedi 
One of the most divisive films of the year is also one of its best. Directed amazingly by Rian Johnson the eighth film in the Star Wars Saga might actually be one of if not the best film since The Empire Strikes Back. It is without a doubt the most thought provoking film in the Star Wars franchise  but it gets people asking all of the right questions heading into not only the final chapter of this sequel trilogy but also about the Star Wars Universe as a whole. The Last Jedi might the best film that I viewed all of 2017 in which I enjoyed it more the second and third time in theaters. Mark Hamill, Daisy Ridley, Adam Driver and of course the late great Carrie Fisher are just a few of the outstanding performances in this film.
2. Coco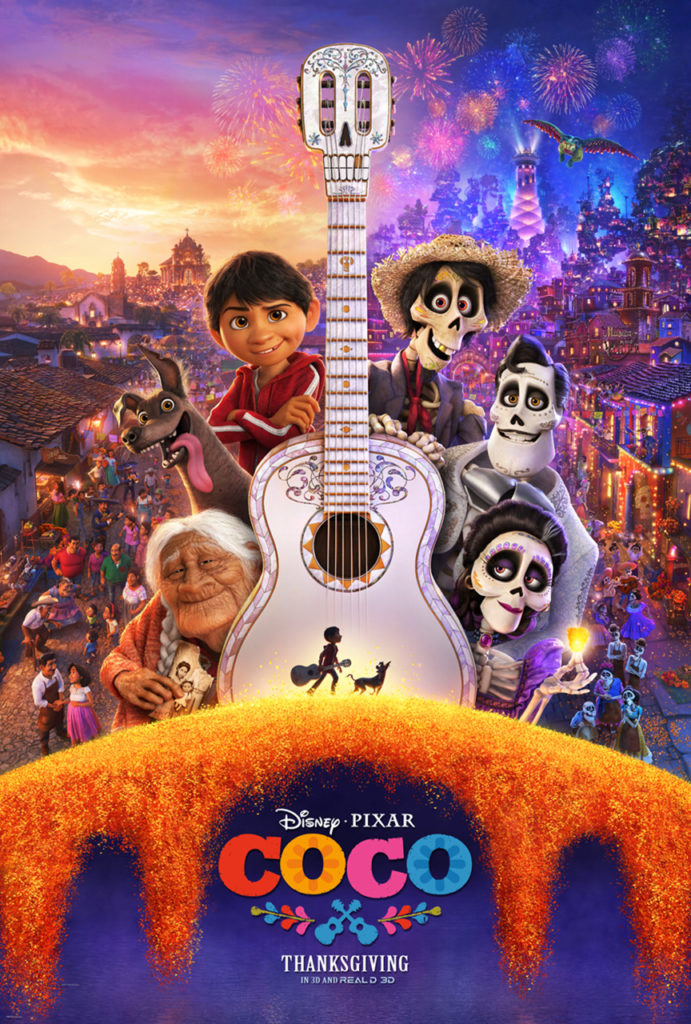 Not since Toy Story 3 have I cried as much during an animation movie then I did during Coco. Such a powerful story about family, heritage and the afterlife that tugs on the heartstrings and can't but help you think about your family. Along with such a beautiful story, Disney and Pixar once again deliver on breathtaking animation that makes all of the characters look incredibly realistic. With Coco, Pixar has breathed new life into their films and its going to be exciting to see what they have in store for all of us next.
1. Logan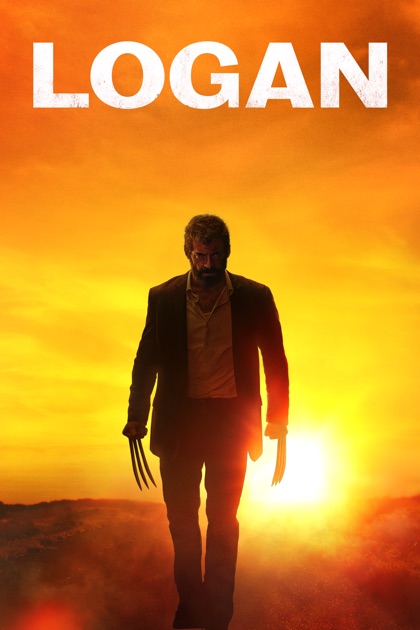 Gritty, action- packed, emotional, and down to earth. This superhero film will go down as The Dark Knight of this decade as James Mangold and Hugh Jackman do an incredible job in bringing the story line of Logan/Wolverine to a resounding and fitting conclusion. Jackman and Patrick Steward give the best performances of their careers and they never let up at all with Dafne Keen also giving us an amazing introduction to Laura aka X23. Mangold does an amazing job of mixing in different genres such as mixing in Western and Sci-Fi elements in a superhero film and paying homage to them. Buy the end of this film I felt like I was on an emotional roller coaster and had my gut punched not just once but multiple times and I have not stopped thinking about this film all year, which is why it's my favorite film of 2017.
And thats the list of my Top 10 films from 2017. This past year will go down as the year that was filled with so many hits from many filmmakers that blended in different genres together and took risks that paid off so well that in the end it made them truly memorable. 2018 the floor is now yours.