By Jason Abdow
@JasonAbdow
1/05/18
It is said time and time again but this year was great for movies. Everything from blockbusters, indie films, horror, comedy, etc. have seen a couple potential classics come out over the course of the last year and I am so happy about it. This also means this list was tough to narrow down since I have seen so much great stuff. Even without seeing films like "Blade Runner 2049," "The Florida Project," "The Post," and "The Shape of Water" I had trouble narrowing this down. So here are a few honorable mentions followed by my 10 favorite films of 2017:
Honorable Mentions (In alphabetic order): Detroit, The Disaster Artist, Dunkirk, Guardians of the Galaxy Vol. 2, Mudbound, Star Wars: The Last Jedi, Wonder Woman
10.  War for the Planet of the Apes
It is hard to believe that a series of goofy sci-fi movies from the 60s and 70s would turn into one of the best film series of the decade. On this final installment, the "Apes" franchise goes its grittiest, feeling like a real war movie, with plenty of social commentary as well. This mixed with Andy Serkis' stellar final turn as Caesar, this is a rare blockbuster that feels grounded in reality…while also revolving around talking apes.
9. It
Horror is always a hit-or-miss genre with me and I am not afraid to admit how picky I am with it. That being said, this was one of the only films this year to truly scare me. Director Andy Muschietti creates an unsettling atmosphere from the opening scene that carries until the end credits roll. And then there is no way to not talking about Bill Skarsgård's turn as the murderous clown Pennywise who manages to terrify every second he is on screen. This was one of the most fun experiences I had at the movies all year.
8. Lady Bird
As someone who went to a Catholic high school, feeling like I was more "pretentious" than my classmates (which in hindsight was definitely a little ridiculous) I related to this one quite a bit. Greta Gerwig's directorial debut might just seem like a simple coming-of-age story, but luckily her script is full of both memorable and relatable moments. Each character adds some new depth to the story of Lady Bird, most notably Laurie Metcalf's Oscar-worthy turn as the difficult mother who is always pushing her daughter to be more than what she is. This movie also continues to prove that Saoirse Ronan is one of the best actresses of her generation.
7.  Coco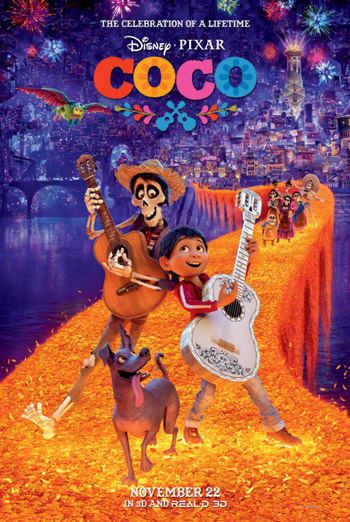 Pixar has done it again, using some of the most stunning animation I have ever seen to tell one of their most human stories. Yes, this does what other Pixar movies have been known to do and makes you cry, it does so in an earnest way. "Coco" does not just manipulate you into crying, every emotion feels genuine and earned. The messages learned here, about the power of music and family, dead or alive, are great for audiences of all ages and the film ends with such a strong emotional moment that ties it all together so perfectly. This has quickly become one of my favorite Pixar movies the more I think about it.
6.  Baby Driver
"Baby Driver" is that cool kid from all those 80s movies that we all wanted to be growing up. Edgar Wright crafted this story of a getaway driver, puts him in a seemingly standard crime heist movie and then cranks things up with his highly entertaining script. And how can I not mention the music which is the heartbeat that pulsates throughout this film, putting everything around it in motion. Wright stuffs this movie with so much personality and creates such a unique vision that I can see this becoming a pop culture staple for years to come.
5.  The Big Sick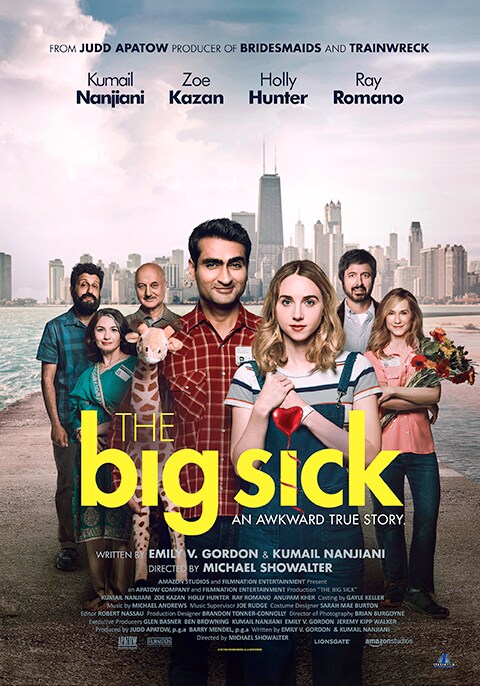 My family and I have watched "My Big Fat Greek Wedding" so many times at this point and while I still find it funny, it has aged in the 15 years since its initial release and now I finally have a movie that my family can replace it with. "The Big Sick" is not just a quirky comedy about differing cultures, but is a sweet little love story, based on the true story of Kumail Nanjiani and his wife Emily V. Gordon. Nanjiani is hilarious in this star making role, as are veterans Holly Hunter and Ray Romano and the chemistry between all these characters is so natural and realistic. This is a wonderful, feel good movie that reaches high emotions but delivers a completely satisfying ending. In short, best date night movie of 2017.
4.  Logan
There is nothing wrong with superhero movies, I get the appeal and 2017 offered some great comic book blockbusters. But none ever came close to toping "Logan" for me. While the "X-Men" movies have been mixed in quality, everyone has always agreed that Hugh Jackman's Wolverine was always a standout. But all great things must come to an end and as Jackman had stated time and time again, this would be Logan's last stand and luckily it is the best movie we have ever seen the character in. The performances from Jackman and Patrick Stewart are top notch, as is the script which keeps this story grounded and centralized. Also, I am so glad to see Hollywood taking risks with R rated superhero movies and it was exactly what Wolverine needed as he graced the silver screen one last time.
3.  Call Me by Your Name
I saw this movie recently, yet it feels timeless to me. This is something film professors will screen in class for years to come because it is just so well crafted. Director Luca Guadagnino takes the story of two people falling in love during the summer of 1983 in Northern Italy and crafts it into something much more powerful than it has any right to be. He is not afraid to take his time building these characters relationships, watching the chemistry between Timothée Chalamet's Elio and Armie Hammer's Oliver blossom into something that feels totally human. The performances here are raw and layered with deeper depth, never feeling overstated, which is an accurate statement for the film as a whole. Sufjan Steven's two original songs compliment this film excellently and capture the emotions of James Ivory's script with each listen. Even the last shot, which remains during the end credits, will leave you haunted and reaching for tissues.
2. Three Billboards outside Ebbing, Missouri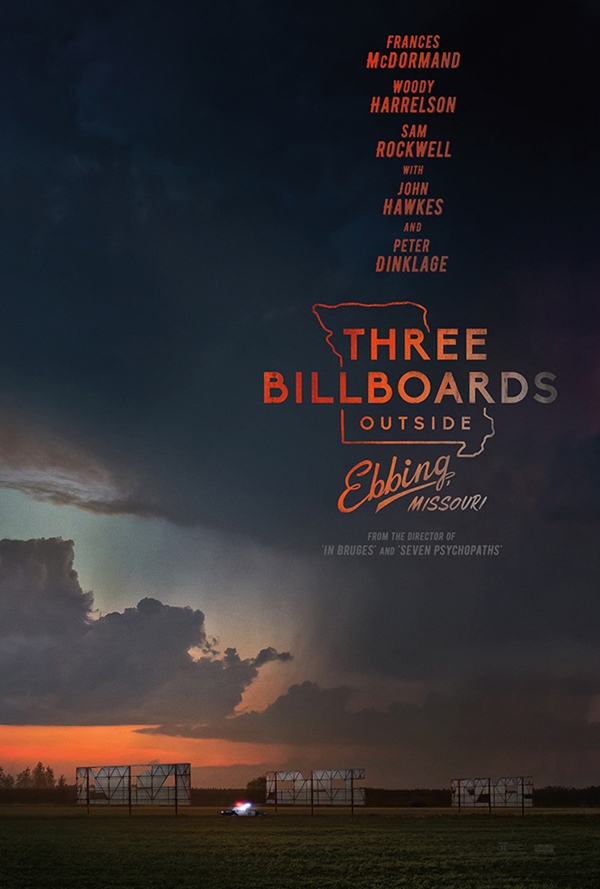 Martin McDonagh might have created his masterpiece. A year ago I would have told you that he had already peaked with "In Bruges" but after watching this, I stand corrected. "Three Billboards" works thanks to its fantastic script which balances the darkly comedic tone with deadly serious subject matter with such effortless ease. Each character in this impressive ensemble is given a scene to shine and builds to the story in their own way. The stand outs would easily be Woody Harrelson, Sam Rockwell and especially Francis McDormand in what might just be her best performance to date. They all sell their complex roles and go through character arcs that are all great in their own way. This is one of those movies I felt could have gone on another two hours and I would have no problem watching it all the way through. These are the kind of movies I love to see when it comes to awards season. Unique, original scripts that grab your attention and keep it for two hours, taking you along on the journey. In 2017, "Three Billboards" did that for me.
1.  Get Out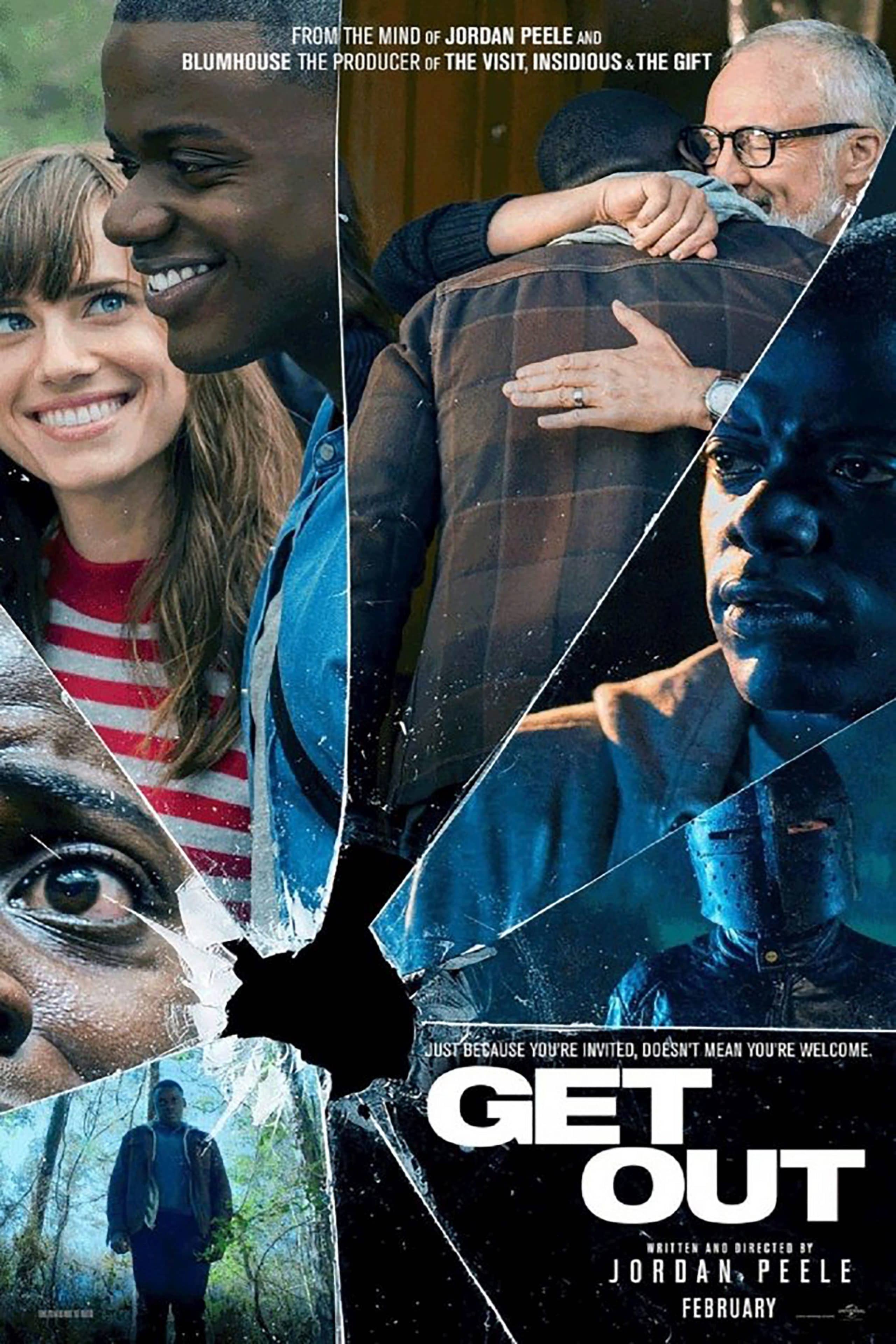 The best movie of 2017, "Get Out" knew exactly what it wanted to be, it went for it and it succeeded better than anyone could have predicted. Writer/director Jordan Peele created this story, filled with the traditional twists and turns of a thriller but does not leave it at that. He works to add biting social commentary that in a year as divisive as 2017 was needed more than ever. It is a movie that is not afraid to point the finger at the liberals and the conservatives who disrespect other races. Peele's messages are loud and clear throughout, but repeated viewings prove that he is also surprisingly great at adding subtle details to his work. The performances he is able to get from his cast are wonderful as well, especially Daniel Kaluuya who is commanding in his role. This is the must see movie of 2017, it gave me everything I want to see in a movie and more and I am so excited to see where Jordan Peele will be able to take his career from this incredibly high point.