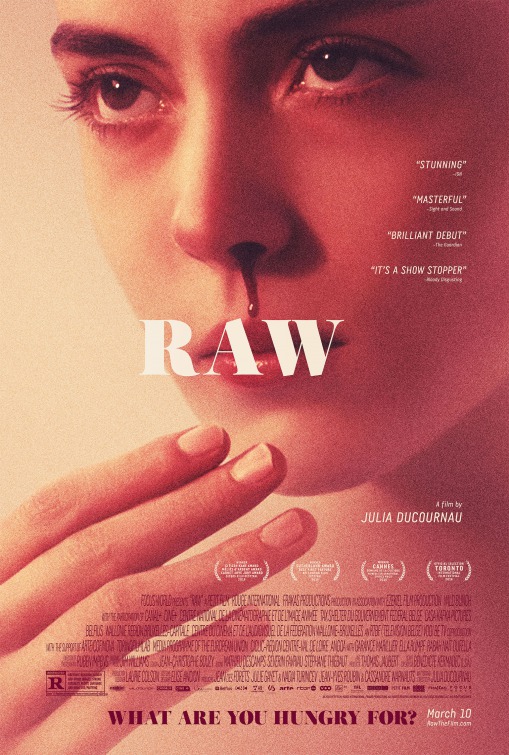 By Sam Bussell
@BussellSamuel
3/21/2017
In the past, I have always been one to shy away from films that attempt to gross the audience out. When I heard about how "Raw" made some people feel nauseated enough that they had to go to the bathroom I was nervous of what I was walking into. As the film started rolling, I could feel my stomach start to tense up but once the story played itself out I was enthralled by what this film told the audience and it wasn't just the gory parts that were the highlights.
"Raw" is a French foreign film and was under the guidance and leadership of Julia Ducournau, who also wrote and made her feature film directorial debut with this project. "Raw" tells the tale of Justine (Garance Marillier), a young woman who comes from a family of vegetarians and is going into her first year at a Veterinary college. At this place, the freshman must go through a hell week of sorts to show that they belong. It is during this process that Justine is forced to consume meat. When that happens, things get out of hand and she becomes a full-blown cannibal that is constantly obsessed with human flesh.
First of all this film will disturb some people in terms of its graphic images and content and that can all be credited towards the director. Ducourneau doesn't shy away from the point of want she wants to address to the audience, which is that this girl is fighting something that cannot be contained. She portrays Justine to seem so innocent while all at once she can't help but find a different side to her. It might end up being the beast to her beauty. Played beautifully by Garance Marillier, who actually starred in a few of Ducourneaus early short films, this actress should be on everyone's radar after the performance she puts on in this film. She plays this character with such terror and beauty that it's hard for the audience to keep their eyes off the screen and from the first few minutes you are on screen you are glued onto this young woman and her story for the entirety of the film.
Along with Marillier, Ella Rumpf, who plays Justine's sister Alexia, also gives an exceptional performance as someone who holds a very dark secret that connects with her sister in more ways than Justine can imagine. While this film about cannibalism, this film really is at its core a coming of age story about a young girl in her first year of college and the trials and tribulations she goes through.
"Raw" blends a different number of genre films together in which it flows so well together and doesn't seem to favor just one genre at any points. At some points people will be laughing, people will be crying and at many points people will be horrified at what this film has to offer.
Overall, Ducournau does a tremendous job in telling a very relevant coming of age story about a young adult going through the trials and tribulations of college and due to these trials sheds into a different person and becomes this creature of habit. While this film is not recommended for people with weak stomachs, if people can muster through the disturbing images it's an important film that audiences can relate to. This is why "Raw" is one of the most important films of the year.