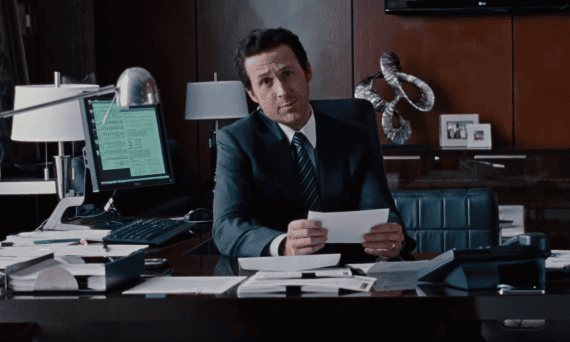 By Mandela Wells
@MwellsDJ
9/23/15
4 of Hollywood's elite are set to team up for a financial drama this coming winter. Yes folks Brad Pitt, Christian Bale, Steve Carrell and Ryan Gosling all star in the new flick known as The Big Short which captures the real life financial crisis that occured between 2007 and 2010 thanks to the build up of housing and the credit bubble. The first trailer has officially been released.
We begin be seeing Christian Bale as notable investor Michael Burry and despite his unconventional work attire and hair he managed to figure out that the housing market is facing a serious dilemma. With the legendary "When the Levee Breaks" by Led Zeppelin in the background we shift the focus to Steve Carrell's character Steve Eisman who is livid at how the big banks such as Morgan Stanley are screwing the American people and in the midst of this rant he helps introduce Ryan Gosling's character Greg Lippman whom Steve says that he told him "there's some shady stuff going down". Also in the midst of all this we see a fully bearded Brad Pitt as Ben Hockett.
The trailer shows us how these 4 men were the only ones that saw how greedy all the banks become and how it threatened the American economy. Near the end is pivotal and somewhat humorous scene with all 4 men in the room. Eisman and Lippman have funny exchange as Eisman says "Thats not stupidity that's fraud" and after a brief pause Lippman retorts "tell me the difference between stupid and illegal and I'll have my wife's brother arrested."
The Big Short not only features these 4 Hollywood heavyweights but also Melissa Leo, Marisa Tomei, Finn Wittrock, Karen Gillian and Selena Gomez. The movie is directed by Adam McKay and will hit theaters December 11th.
Scroll down to check out the first trailer.